We recently made a road-trip to one of the densely populated tiger jungles of the world - Kanha and Bandhavgarh National Park. Both of which are located in Madhya-Pradesh(MP). MP is a state which you might have heard of but its not on anyone's travel radar. We were looking for some National Park to explore in India and MP's one seems to have good fauna of large cats especially Tigers.
Fun Fact - Rudyard Kipling's Jungle book is based on Kanha National Park. During our road trip, I was blown away by how much I was having in MP. I state I wouldn't have visited if it weren't for these National Park. The world needs to know how far MP has come as a good tourist spot.
MP is New Zealand of India
Yep, I said it. No need to panic, hear me out. I have done road-trips in both of these destinations. MP like New Zealand relies on tourism and farming as a major source of income. Like New-Zealand, you will find wide landscapes covered with farms and grazing livestock. In MP like NZ, you will also come across random beautiful lakes.
It's actually the heart of India
I have been living in India all my life but I have actually never seen people so welcoming and warm-hearted. I was completely awed with the hospitality that we received during our time in MP. And I am talking about hospitality not only from hotel staff but from road-vendors, random street-encounters and shop owners. Everyone was so kind and helping, I couldn't believe that it was happening in India.
Best jungles of the world are here
As an Indian, I am proud of what we have done with our jungles. Not only we have preserved them but made them accessible in a sustainable way. You can tell that you are in an actual jungle when you come across a tree like this. This is a parasite tree that must have been there for centuries undisturbed. Here you will experience the adrenaline rush of finding big-cats like Tiger by using natural cues like following pug-marks, alarming-sounds by lower food chain animal and their daily routine. Some incredible views from our safari to Jungles -
Roads are incredible
Roads are a major reason why I made the first statement that MP is a lot like NZ. Roads here are well-maintained and I would definitely recommend a road-trip if you are planning to visit MP. Breath-taking views of farms and mountains. Friendly encounters of monkeys, deers and cows, and insanely dense boulevard will make the drive worth-while. Check out some photos that we took during the road-trip -
Government is putting a lot of work
I was actually mind-blown by how much honest effort the government is putting in to make MP a tourist-friendly destination in a sustainable way. We had following government officials encounters which changed our perception towards them -
Jungle Safaris
I have been to many Jungle Safaris in India and it felt like government officials are there to rip naive tourists. When you take a jungle safari you are accompanied by a guide and driver. Sighting an animal is dependent on the skills of driver and guide which in other Jungles is possible when you pay hefty tips to guide and driver. Here everything was transparent free from the tip-based system. People working at Jungle-Safari were the most passionate government officials that I came across in India.
Government holiday homes
I had so many bad encounters of staying in government holiday homes in the past that I had given up on them. But when we were planning our trip to Kanha national park, the government's holiday was so close to the jungle it was hard to ignore. Our expectations were quite low, but when we got there boy we were up for a treat. It started with incredible meals accompanied with well-equipped rooms with breathtaking views. The staff was so nice there we were out of thank-yous for them. That holiday home even had its own nature trail with a cool observation deck overlooking the jungle. Here are some photos of the hotel and its surroundings -
Nature Conservation Initiative
We all know Jungles are a huge source of income when exploited for its abundant natural resources. Safeguarding the jungle from all the economic benefits is not an easy task and its even more daunting when its surrounded by an economically-backward population. MP government has done an incredible job of maintaining the health of its jungle by deeply caring about them and by intensive research about them. India has now a healthy population of Tigers and its major contributor is the MP state.
Kids will love it
Urban children grow with so much disconnect with nature and our Indian farming roots. Kids nowadays don't miss chirps of birds or monkeys hanging at windows because they have never experienced it. But when you visit MP your kids will realize how much fun it is to wake up by the sounds of birds or coming across a friendly monkey on a street. I observed kids when they were visiting Jungle Safari with us, they were learning a great deal about how nature works. How nothing is wasted in nature and everything is closely inter-dependent. For example - One interesting thing that I learned when I was in the Jungle was about the friendship of deer and monkey. Monkeys and deers depend on each other. Monkeys drop fruits from the trees and warn deer of sighting of a predator from the height. Whereas deer helps monkey by its smelling sense when any predator is in hiding. You will often find these two spices hanging out in the vicinity of each other and working closely to elope predators.
Parting words
I hope this article will inspire you to plan your next travel to MP and feel free to hit me up if you want to know more about our itinerary to these national parks.
Important Links -
I am leaving you with the most epic photo of our trip. We saw a family of 5 tigers, they were hanging around a pool to quench their thirst. When we came across these it literally gave us chills.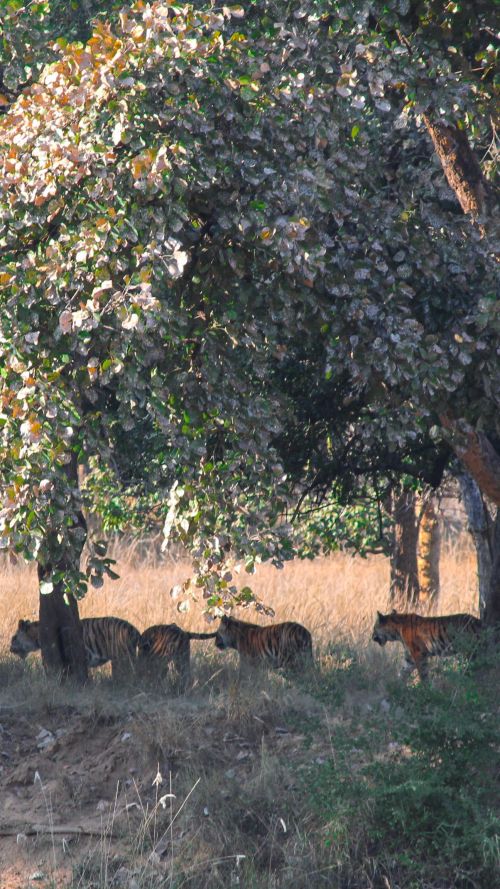 ---